Regular price
Sale price
$18.00
Unit price
per
Sale
Sold out
Low stock: 8 left
Shipping & Returns

Order before 3pm for same day despatch Monday-Friday

Free shipping on UK orders over £100

See our full shipping/returns options here
Wilkinson Tune-o-Matic Bridge for Gibson Guitars - ABR-1 Style
The Wilkinson Tune-o-Matic Bridge is a fantastic upgrade for any Gibson guitar. It's the ABR-1 style bridge which is the vintage era Gibson bridge type, making it perfect for keeping the vintage aesthetic or creating your own ode to the golden age of guitar building. Trev Wilkinson is renowned for his unique desigh ethos and this bridge is no different, providing in an upgrade in pretty much every way from the bridges that come as stock.
Saddle Retention Rings
This bridge utilises saddle retention rings, which prevents the dreaded saddle rattle that's a symptom of lesser bridges of this type. This significant improvement in design means that this bridge will offer a better playing platform, allowing all your notes to ring out to their true potential.
Tune-o-Matic Bridge Design
The Tune-o-Matic was created as a direct replacement to the Wraparound bridge, first appearing on the Gibson Super 400 guitar in 1953 before appearing on the Les Paul Custom the year following. Keeping some of the qualities of the original Wraparound, the idea behind its construction was to make the distance adjustable for all strings with individual saddles, whilst simultaneously creating a better break angle for the strings with the addition of the stop bar tailpiece.
Fitment
This bridge has 4.2mm post holes to drop over 4mm posts. Please note if you're wanting to upgrade your Epiphone LP, SG, or ES then you will a need a bridge with the larger 6mm posts.
Les Paul Bridge
Whether you need a bridge replacement for your Gibson Les Paul, SG, or ES guitar, this high quality bit of kit from Wilkinson will do a fantastic job without costing you an arm and a leg.
WOGB1 Specifications
String Spacing 10.4mm (52mm E to E)
Radius - 12"
Bridge Material - Steel
Saddle Material - Steel
View full details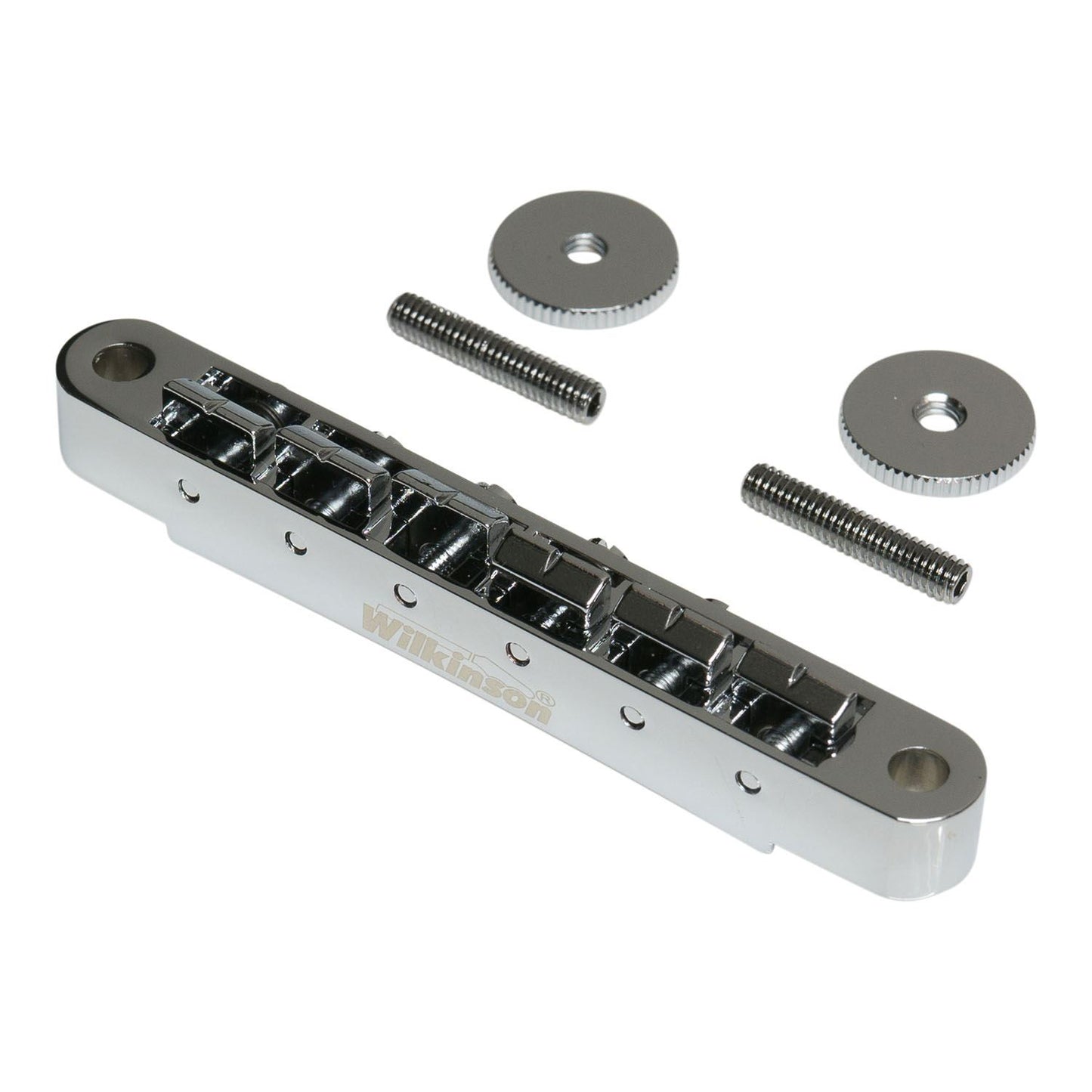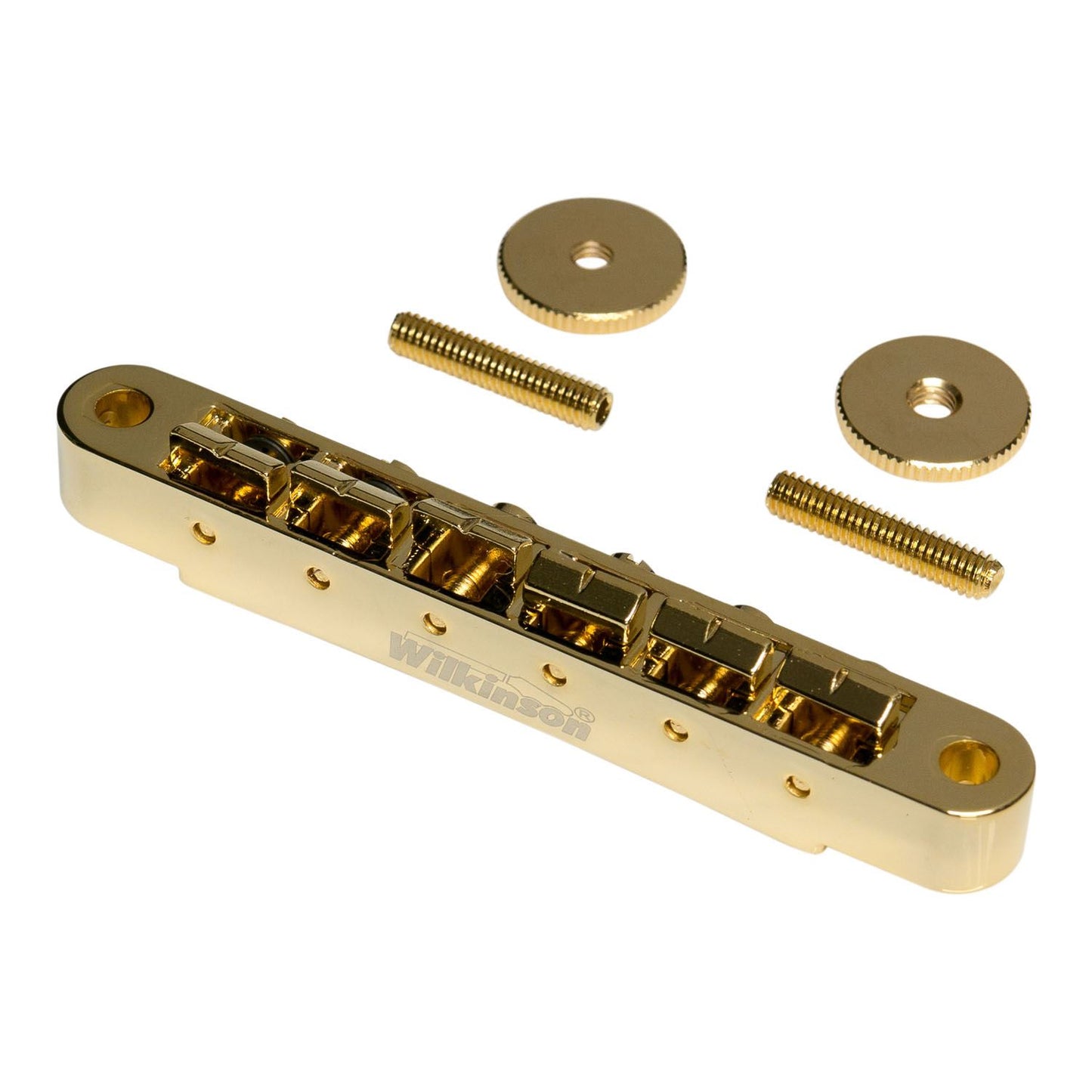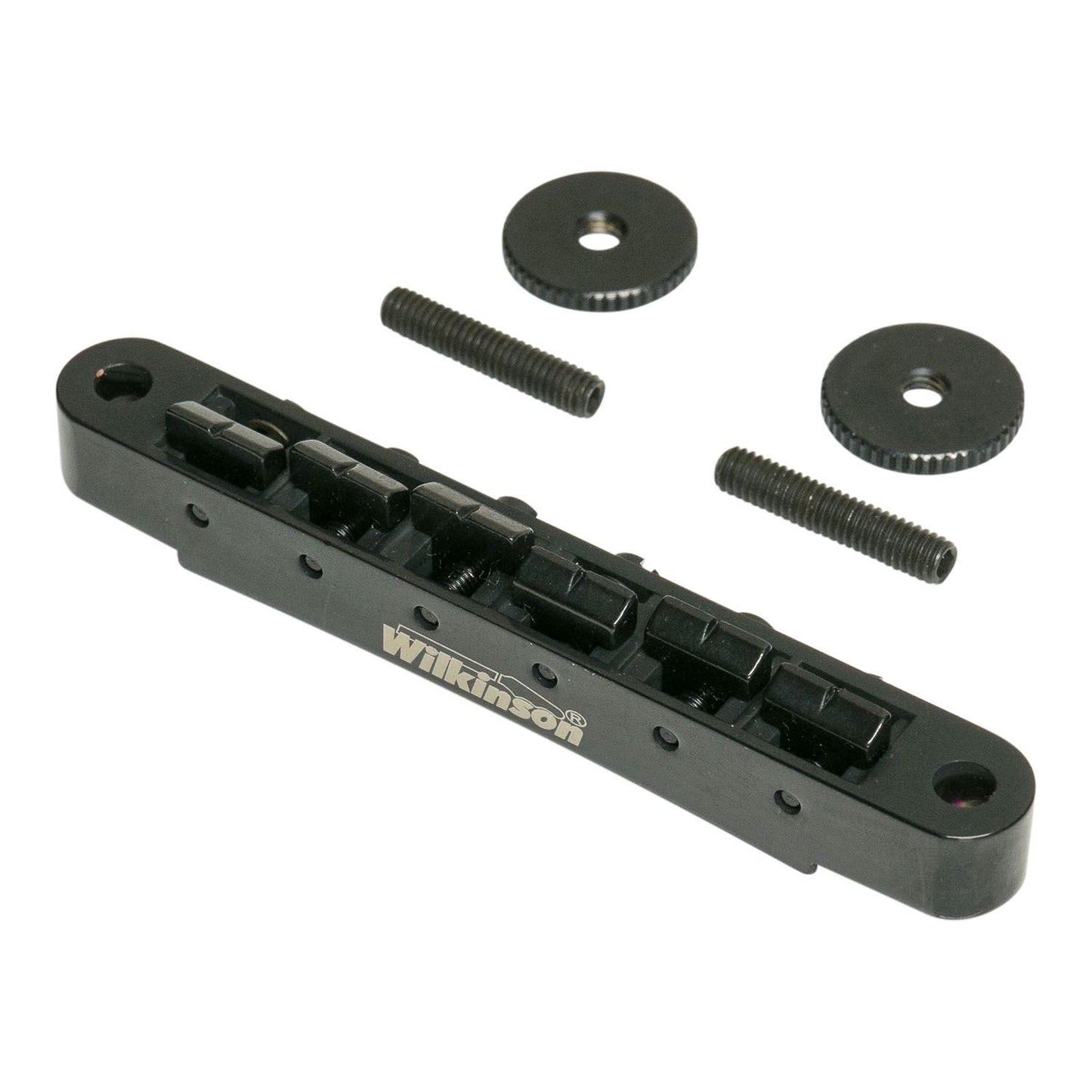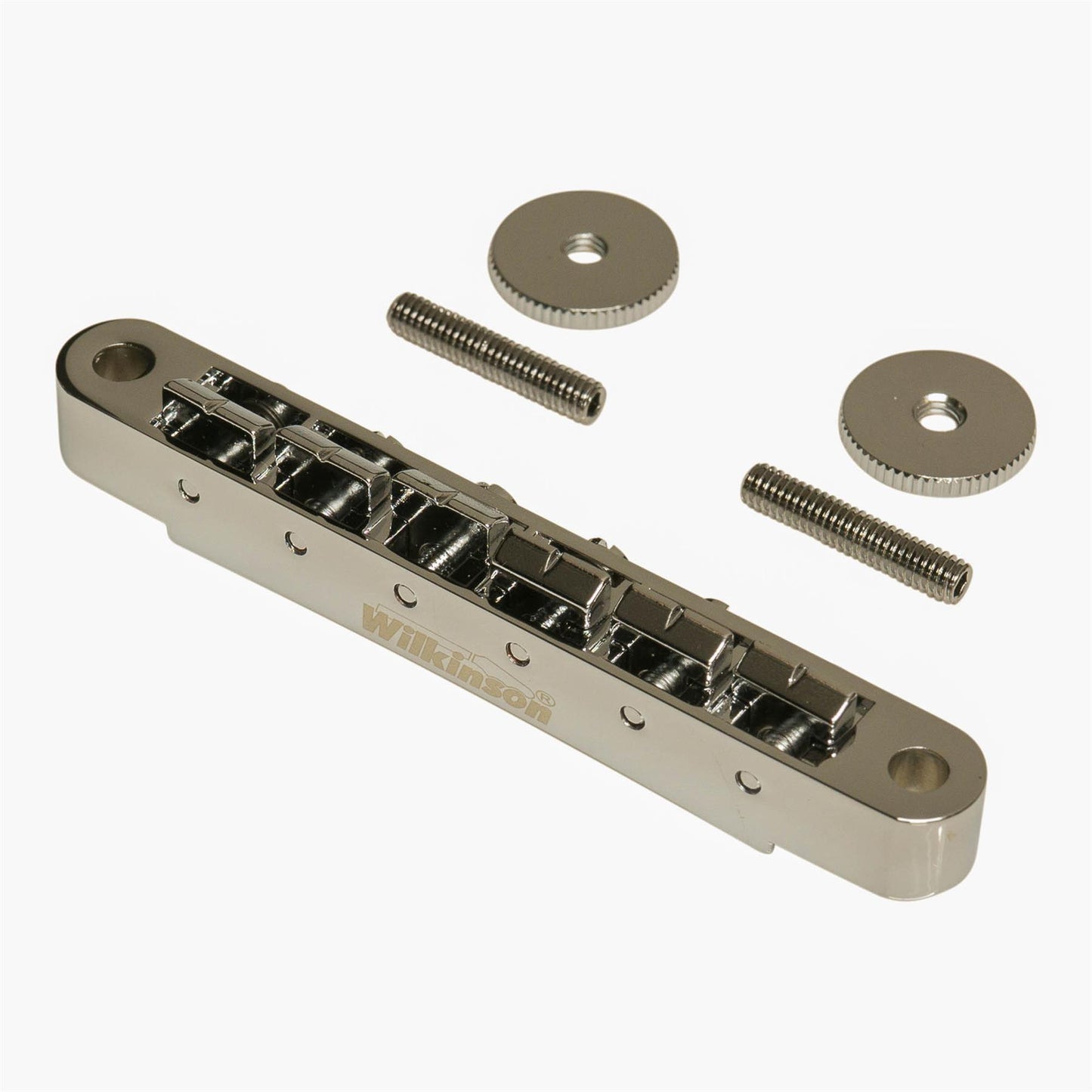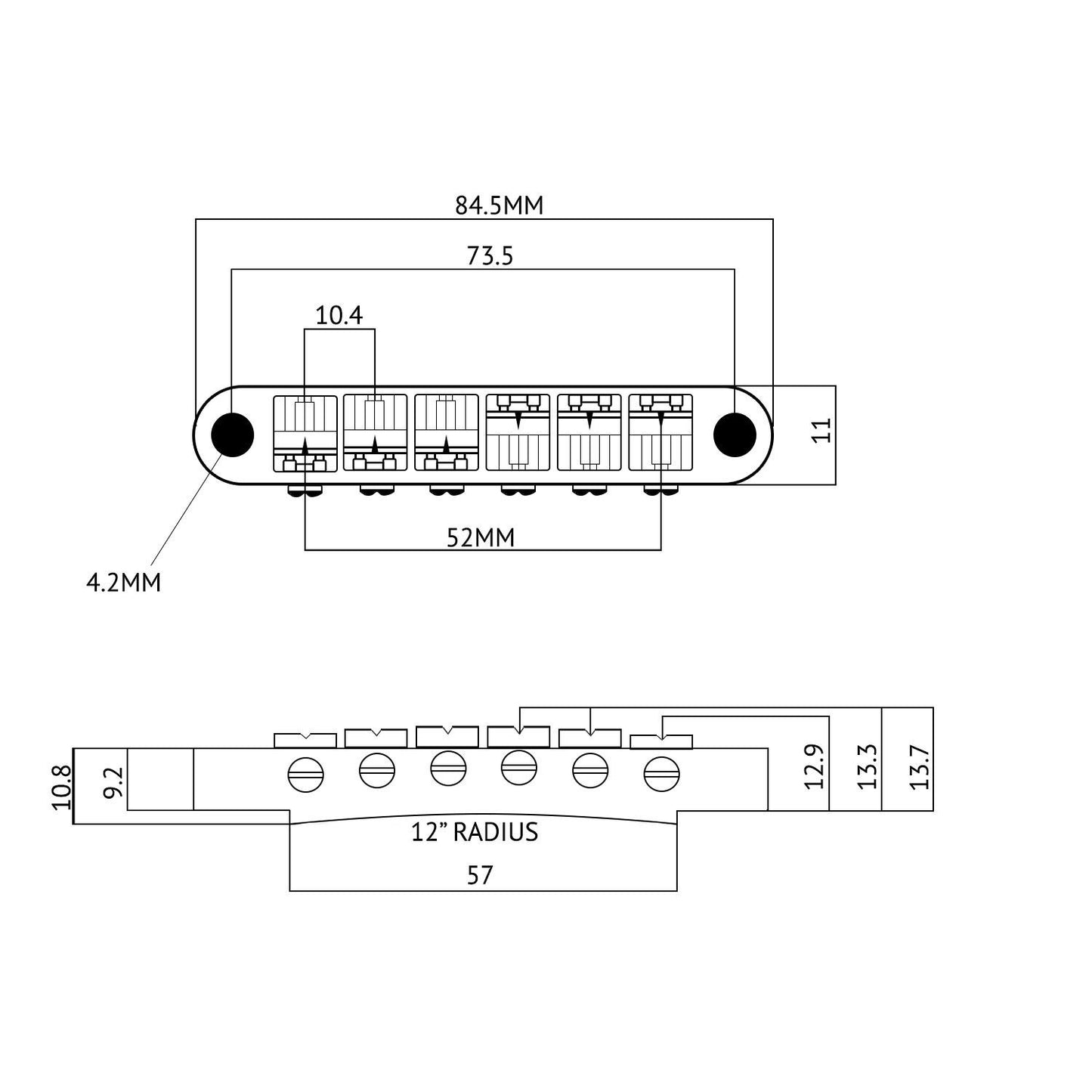 Drop in fit for Revstar RS420
My Yamaha Revstar is a stunning looking and very easy playing LP alternative BUT the plastic nut had to go in favour of a Tusq one and the bridge, sad to say was awful. The main issue was the saddles were cut far too deep, and like Epiphone bridges it had that silly bit of wire that is supposed to act as some kind of spring washer for the adjustment screws. The result was a horrible metallic twang on some strings. This sounded ALMOST like fret buzz even though I'd had it fully crowned/dressed. I contacted NWG with photos and they advised a metric bridge. I'd had previous good experience with Wilkinson Hardware and the price was very affordable so I ordered that one. I left the existing posts and thumbweels in place and the bridge just popped directly on. The saddles were properly cut and the intonation adjustment screws were very good with a "proper" sized slot in their heads to take a screwdriver. Nickel plating was faultless. Height set, intonations adjusted and BINGO! No more buzz. NWG service for guitar bits is second to none. Thanks.