Regular price
Sale price
$160.00
Unit price
per
Sale
Sold out
Out of stock
Shipping & Returns

We offer a range of shipping services for domestic and international customers.

Order before 3pm for same day despatch Monday-Friday

Free shipping on UK orders over £199

See our full shipping/returns options here
Precision Bass Style Body - Compatible with Fender Hardware
Our Precision Bass Compatible Body gives you the classic Precision Bass shape and configuration, delivering a guitar tone that's been heard on countless hit records. Our replacement Precision Bass bodies are perfectly routed to accept your pickups of choice.
Compatibility
We've produced faithful replicas of this iconic body shape, with the same dimensions and pickup routing as the original, thus ensuring our bodies are compatible with genuine Fender hardware and necks, including MIA, MIM, MIJ, and many Squier models
Alder Guitar Body
Alder has many sonic advantages thanks to its closed-pore design which delivers a resonant and balanced tone. Often referred to as 'full bodied' it has a great sound across the entire spectrum range, delivering excellent sustain and attack. It's balanced tonal nature and easy to use construction is all what it makes it one of the most popular woods for guitar bodies.

Neck Pocket
All of our guitar bodies are designed with complete compatibility in mind, so our neck pockets are perfectly sized to fit the vast majority of guitar necks. The neck pocket offers a snug fit with pre-drilled holes for easy installation, making them perfect for matching with genuine Fender necks, or other aftermarket guitar necks.
Routing
We also rout all of our guitar bodies for all your electronics, with pickups, control cavities, and some hardware mounts already pre-drilled so you can get up and running quicker. Depending on the model we may not necessarily drill tremolo or bridge mounting holes, and this is because there is so much variety between different bridge types that we would end up limiting what you can install.

Poly Finish
All of our guitar bodies carry Polyurethane finishes, which is the most popular material for finishing modern guitar bodies. There are a variety of reasons for the switch from Nitrocellulose to Polyurethane but, one of the main factors is that Poly requires far less coats to finish the guitar resulting in a quicker overall build process. It's also far more durable than Nitrocellulose and will stay shiny for longer, being incredibly resistant to scratches and dings as anyone who's ever tried to sand it can attest to.
We've been making bodies and necks for many years now, and we have achieved a reputation among builders and luthiers for producing wood products of the highest quality. Our Precision Bass Compatible Body is the perfect guitar body for your next build project.
View full details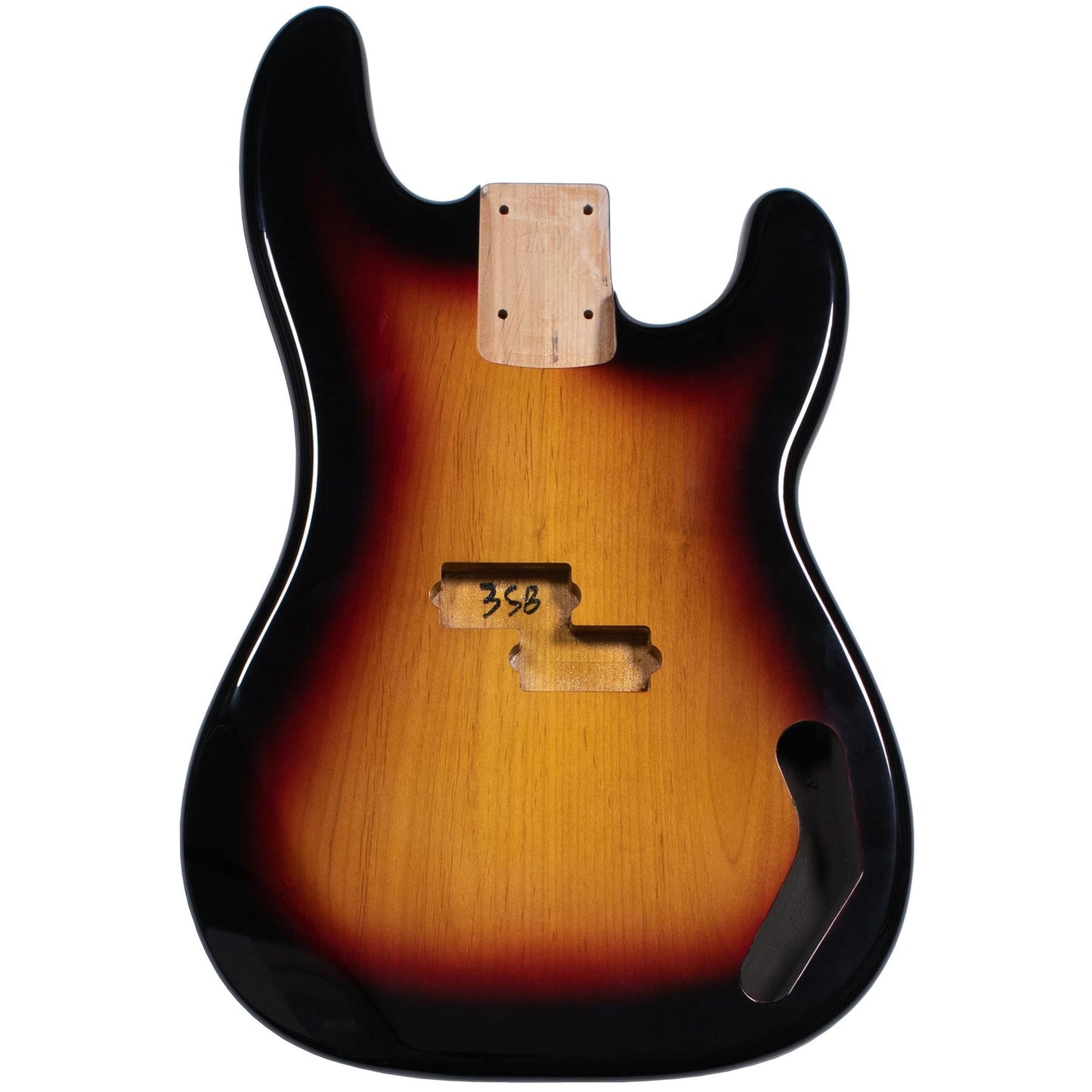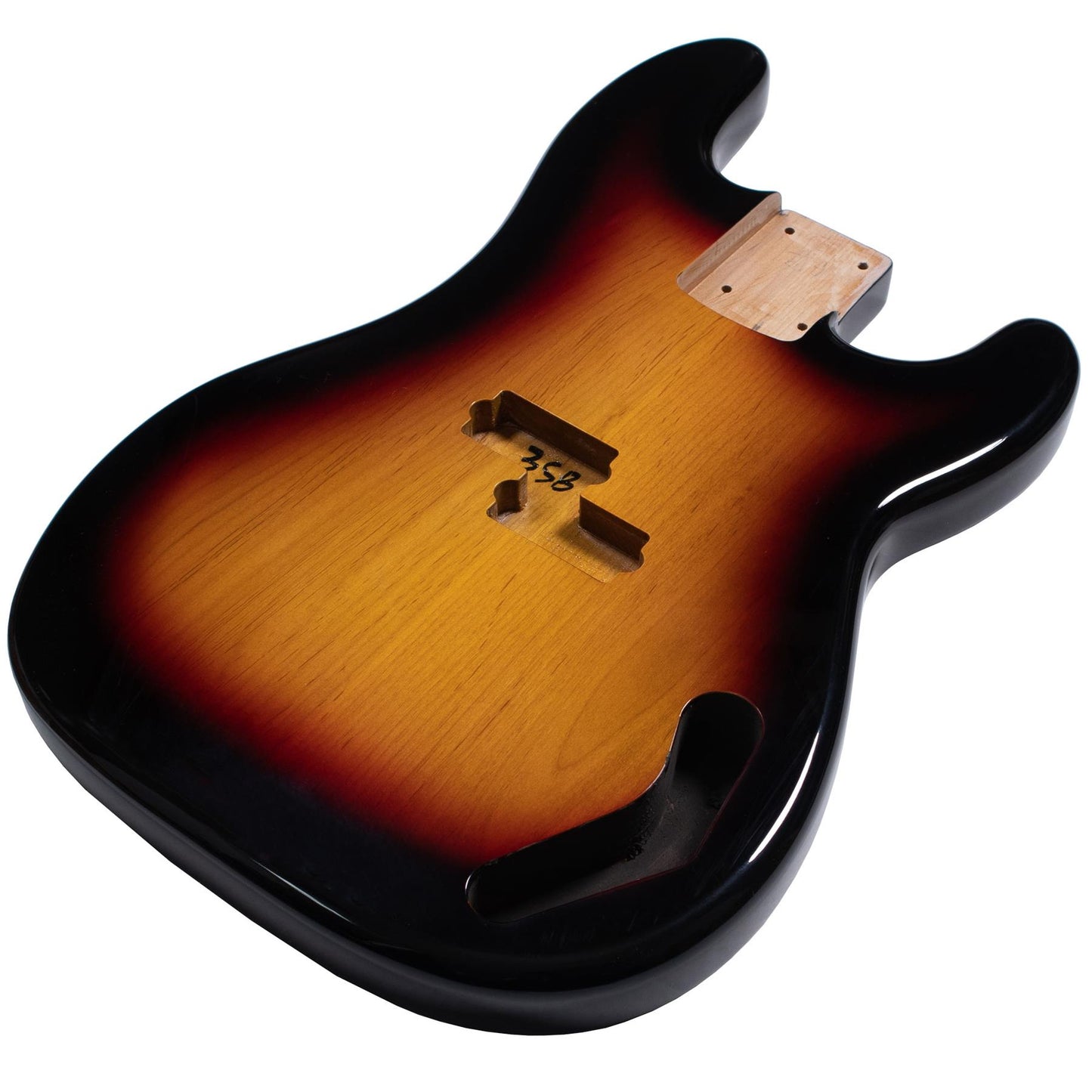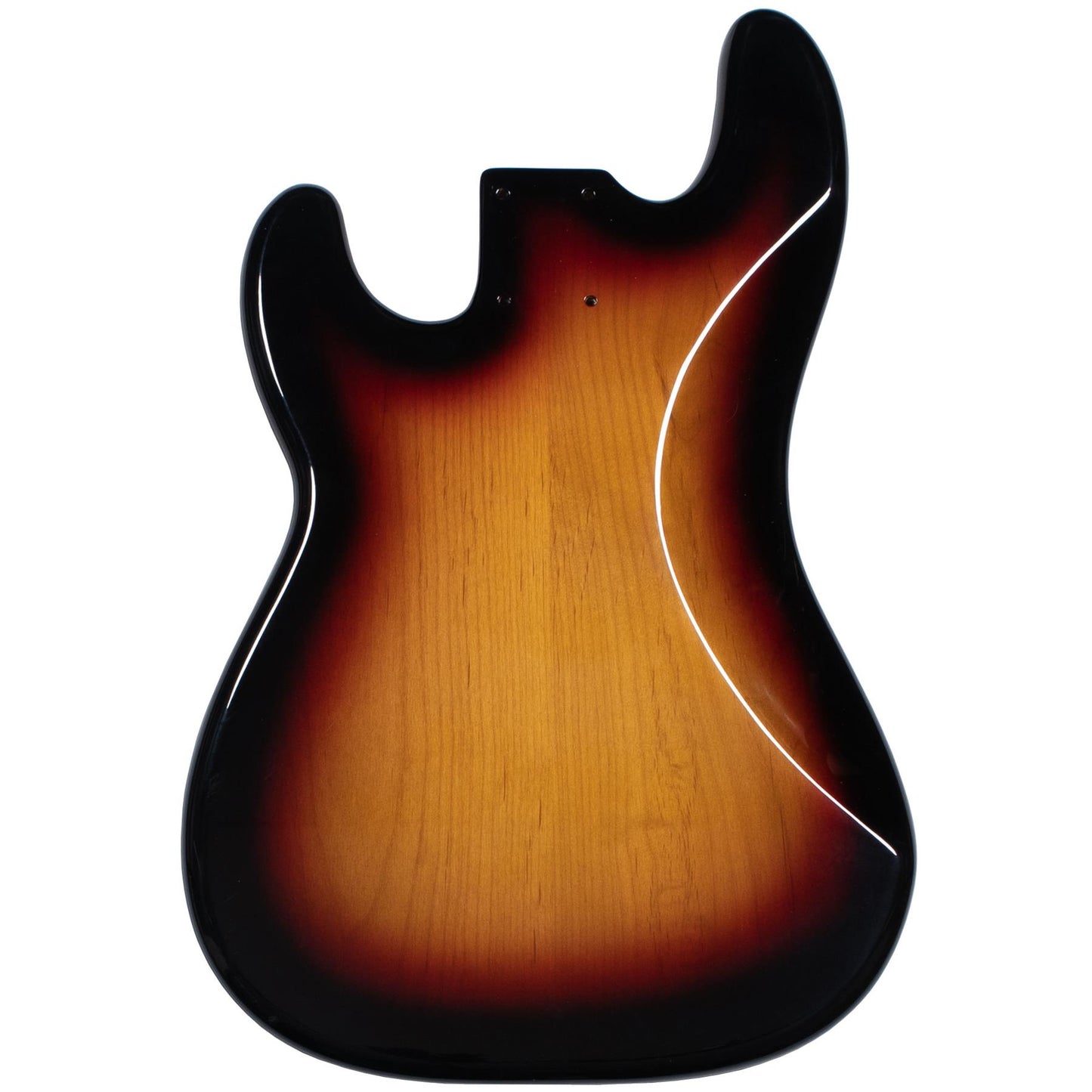 Specifications
Material: Alder

Body Thickness: 44mm (1 3/4")

Neck Pocket Width: 63.4mm (2 1/2")

Neck Pocket Depth: 17mm (43/74")

Control Cavity Depth: 38.5mm (1 33/64")

Pickup Cavity Depth: 17mm (43/64")

Finish: Polyurethane

String Spacing: N/A

Other Info: Strap button holes pre-drilled

Weight: 2.4kg (5lb 3oz)
Nice finish, but some incorrectly drilled holes.
All in all it is a good body, with nice wood grain and a very nice vintage style finish.
But incorrectly drilled holes for the neck screws (didn't match a standard neck plate) lowered the rating. They were so wrong that I had to plug two and drill new ones.