SKU:GS250-CS
Regular price
Sale price
$11.00
Unit price
per
Sale
Sold out
Low stock: 7 left
Shipping & Returns

We offer a range of shipping services for domestic and international customers.

Order before 3pm for same day despatch Monday-Friday

Free shipping on UK orders over £100

See our full shipping/returns options here
Specifications

250ml water based top coat

Apply with a lint free cloth or sponge applicator

Drying time: 3-4 hours
Usage/Storage

Storage of Water-Based Products


Please be mindful of the manner in which water-based products are stored and how long they have been in storage. 
 

Life of Product
Water-based products have a limited shelf life, but can be prolonged with proper storage. Unopened cans can last 3-5 years if stored correctly. As they age, the product may separate, so be sure to stir well before use.

Always stir thoroughly before using. 


Clumps & Settling
Solids settling at the bottom and slight separation at the top of a can is normal due to gravity. To mix older products, use a paint mixing attachment on a drill. If mixing smooths out any clumps and solids dissolve, the product is good to use. However, if large lumps remain after stirring, it may indicate that the product has frozen and is no longer usable


Storage Tips
To increase the lifespan of water-based finishes, follow these best practices:

Use a paint can opener to open the sealed lid to prevent damage
Keep the lid closed while working and pour what you need into a separate container
Clean the can's chime and avoid wiping brushes on the lid
Pound the lid in place with a rubber mallet or flat piece of wood
Store in moderate temperatures and upside down to minimize evaporation and crystallization
Use alternative storage containers like plastic or glass bottles
Do not fill metal containers completely to prevent rusting
Northwest Guitars Water-Based Top Coat (Satin Finish)- 250ml
After months of research and testing, we're really excited to introduce our new range of guitar specific water-based products. 
This water based product will produce a deep vibrant finish, with easy application and relativley quick drying times.
This product can be used straight out of the tin, with the minimum of prep (just sand the body smooth) and applied with a lint free cloth or sponge applicator. Drying time is around 3 hours. 3-4 coats tend to be enough for a deep rich finish, but additional coats can be applied if necessary.
One 250ml bottle will give you plenty to play with, with enough product to easily complete 2 or 3 guitars.  
Apply with a lint-free cloth or sponge applicator.  Allow to dry and then apply further coats until you reach your coverage.
View full details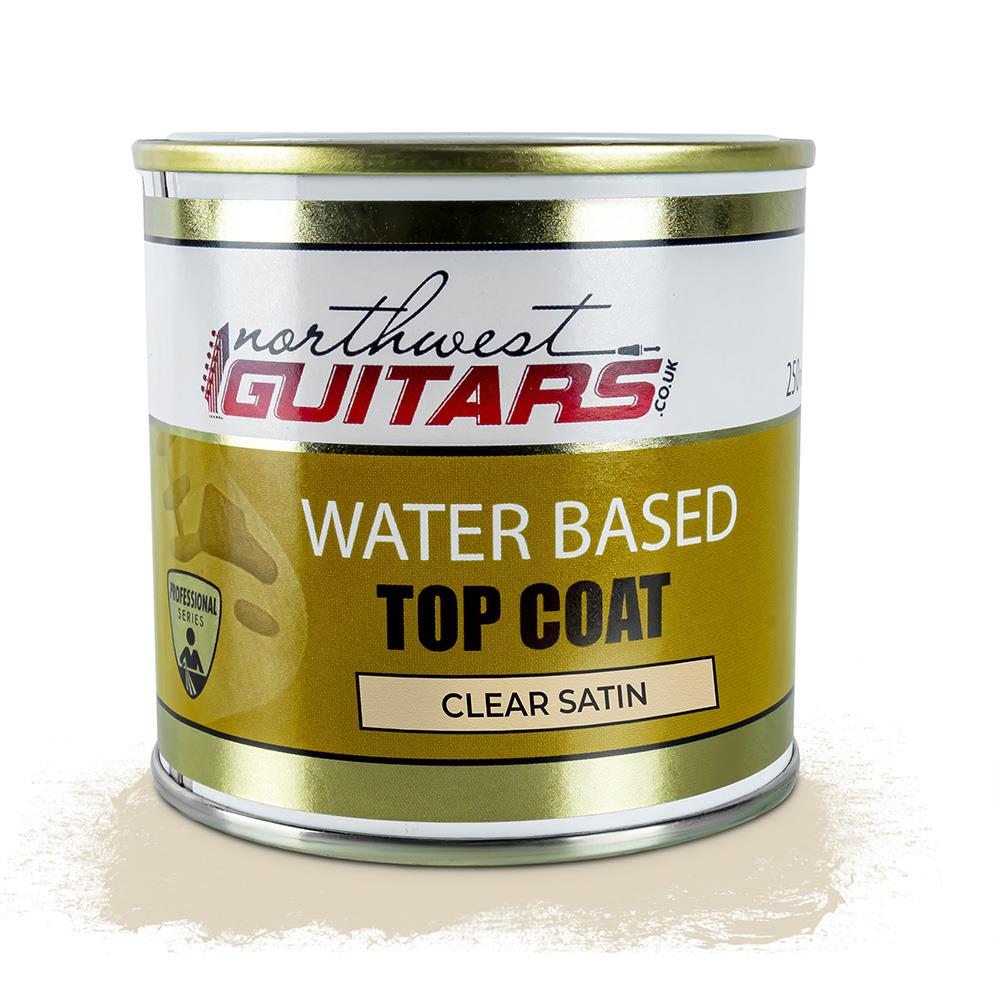 Silky not sticky
Using for a guitar neck, just testing on spare piece of Alder at the moment, easy to apply, clean up, and finish is looking and feeling good.
Excellent product and easy to Apply
I used on a couple of guitars - one an acoustic model (Lowden) and the other a strat neck. I found the product excellent and easy to use using form brushes. Also, I applied a new Fender decal and finished with the lacquer, 1200 and 2000 wet/dry - which gave a perfect professional finish. The strat is a Eric Clapton artist and the satin finish was just as was when new from Fender.
I highly recommend this product .